Video and Recipe!
We were delighted to receive a care package from Sociale's fishmonger Aqua Best! And what better way to celebrate than making a luscious risotto filled with the freshest mussels, shrimp, and scallops. Watch the video on our channel for some history, a perfect wine pairing, and just some fun! Hope you will be inspired and maybe make you feel you're on the Amalfi Coast sipping a crisp bicchiere di vino bianco and enjoying the Mediterranean Sea! We like to imagine that anyways.
Seafood Risotto Alla Pescatora
Servings: 4
Difficulty: medium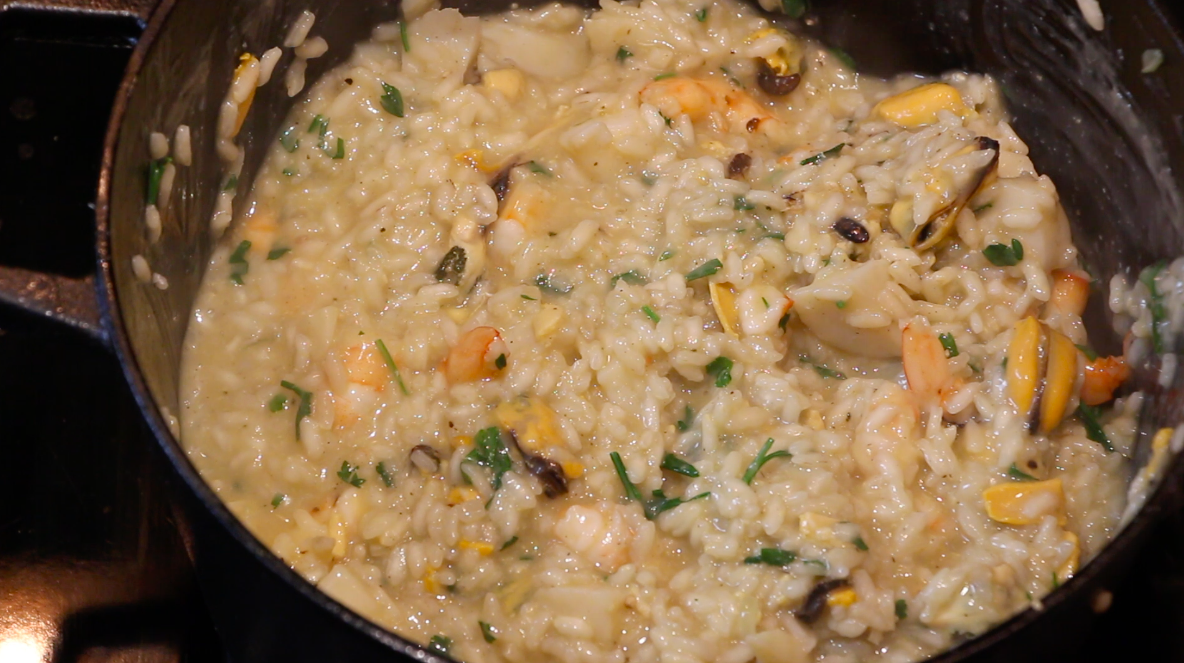 A rich and creamy (without any cream) Italian seafood dish
Ingredients
2 lb bag of Mussels
1/2 lb Shrimp (save shells/heads/tail for stock)
1/2 lb Scallops (6 large)
4 cloves Garlic (2 with skins left on)
1 carrot cut into inch pieces
2 celery stalks cut into inch pieces
1 onion quartered
2 whole peeled tomatoes (from can)
1 1/2 cups of dry white wine
1 pint (2 cups) fish stock
1 shallot chopped
2 cups of Arborio Superfino Rice
a bunch of parsley
Olive Oil
Salt – Pepper QB
Directions
Soak mussels in salt water for 2 hours to remove impurities. Then scrub and throw away any that have opened up. Peel and devein shrimp leaving shells/tails/heads aside. If working with large scallops, quarter cut them for bite size pieces.
In a large stock pot with lid, coat bottom with olive oil and turn on flame to med/high. Add garlic (with skins), carrot, celery, onion, shrimp shells and stir. After 2 mins add 1/2 cup of white wine. Simmer for 5 mins. Add tomatoes and fish stock. Once all combined pour 4 cups of water to cover all ingredients. Bring up to a boil. Once boiling lower flame and cover. Let seafood stock simmer for 45 mins.
In another stock pot over med/high heat, add olive oil, chopped garlic, and mussels. Pour 1/2 cup white wine over mussels and cover to steam. Open lid 3-5 mins. Once mussels have fully opened they are done. Scoop out mussels into a colander that is placed into a large bowl. This will help catch any liquid that drip off of mussels. After all mussels are out set them aside and drain all liquid from cooking pot into bowl. Add the mussel broth to your simmering seafood stock.
After stock is done cooking, strain into large bowl. Discard all solid ingredients.
Add rice to small sauce pot and toast over med/low flame for 5 mins.
In a 5 qt dutch oven or large sauté pan, bring heat to med/high and add olive oil and shallot. Stir in toasted rice and keep stirring until olive oil has absorbed and rice is hot. Add 1/2 cup white wine. Once wine has cooked down and evaporated start to slowly add in stock. 2 ladle fulls at a time. Letting the stock fully absorb into rice before adding more. You will add a total of 8 ladles 2 at a time.
Add scallops and shrimp into risotto. Once shrimp start to turn pink add mussels. After mussels have been added turn off flame. Add salt/pepper QB and fresh parsley. Keep continuously stirring for 5 minutes to fully incorporate all ingredients. Then cover and let sit for 5 minutes before serving.
Serve immediately. Buon Appetito !
Any left over stock can be stored and kept in fridge for 3-4 days or freezer for 4-6 months. Also left over risotto can be made into seafood arancini! (Fried rice balls)