Classic and comfort 100000% come together in this southern Italian dish! Who doesn't love layers and layers of fried goodness and gooey cheese? Watch the video on our channel and learn how to make Melanzane Alla Parmigiana, what wine we chose to pair, why Francesco thinks its weird to have wine with pizza and the traditional cheese used in this dish (even though we use straight up mozzarella and parmigiano… can't be picky during lockdowns!) EAT! HAVE FUN! And most of all… ENJOY!!
Eggplant Parmigiana
Servings: 4-6
Difficulty: easy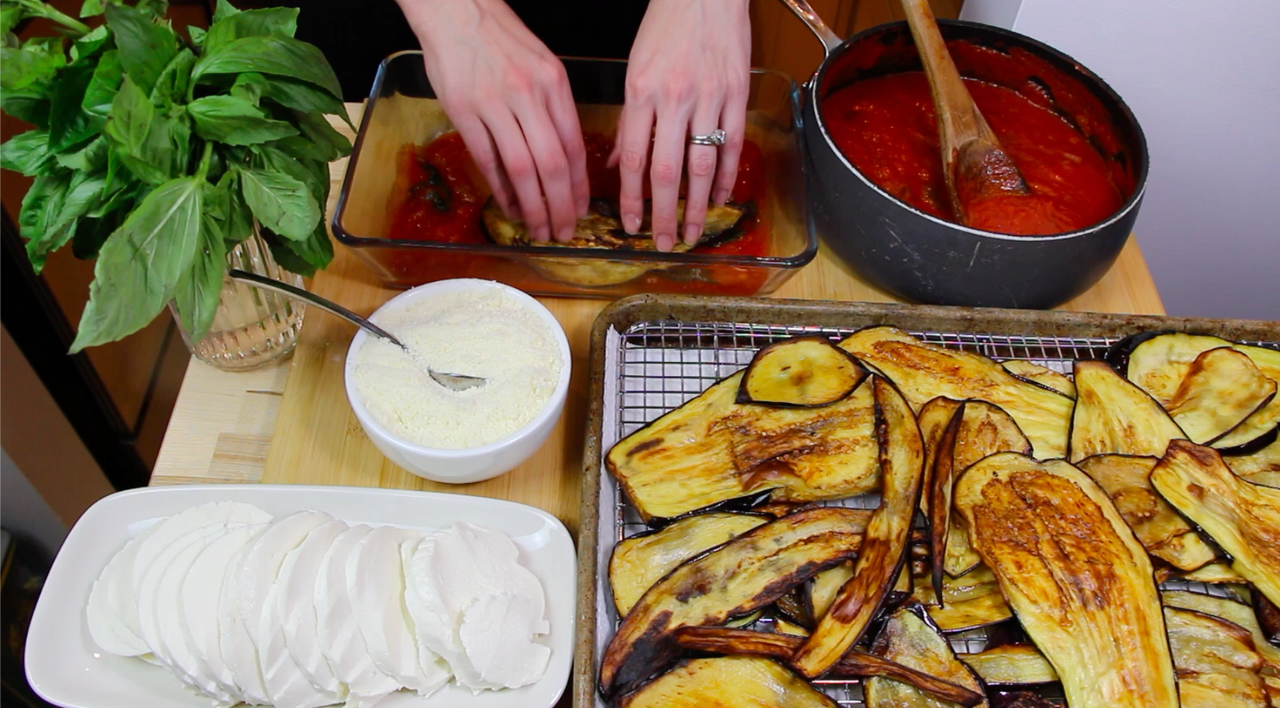 A classic and comforting Italian Dish
Ingredients
2 large eggplants sliced 1/4 inch thick
sea salt
frying oil (to fill frying pan 2 inches deep)
24 ounce tomato puree
2 garlic cloves sliced
1 shallot chopped
A bunch of fresh basil
1.5 lbs fresh mozzarella thinly sliced
parmigiano reggiano grated
olive oil (qb)
Directions
Lay out in single layer eggplant slices and salt. Let sit out to sweat for 30 mins. Dry off water that accumulated on eggplant with paper towel or clean dish towel until all water absorbed.
In medium sauce pan bring heat to medium/high and add olive oil. Add garlic and shallot. Cook for 5 minutes and add tomato puree. Keep cooking for 15 minutes lowering the heat if sauce starts to bubble. Once done, take off from heat and add salt and handful of basil. Set aside.
In large frying pan, add canola (any frying oil) to fill your pan about 2 inches deep. Place a smaller eggplant to test oil for temperature. Once tester eggplant starts to bubble and lightly brown start adding additional eggplant about 4-5 slices at a time. Let fry for 3-4 mins or until golden brown. Remove from pan and place on paper towel lined cooling rack. Repeat until all eggplant slices are fried.
Preheat oven to 375 degrees. Using a 11×7 baking dish, start to assemble. Starting with sauce, fried eggplant, more sauce, fresh mozzarella slices, sprinkle parmigiano, 3-4 whole basil leaves. REPEAT until all ingredients are layered. Should come out to 5 layers.
Bake in oven for 20 mins. After baking let cool for 20-30 minutes before cutting into.
Buon Appetito!
Store in fridge for 3-5 days or freeze in airtight container for 10-12 months. Just heat and enjoy!